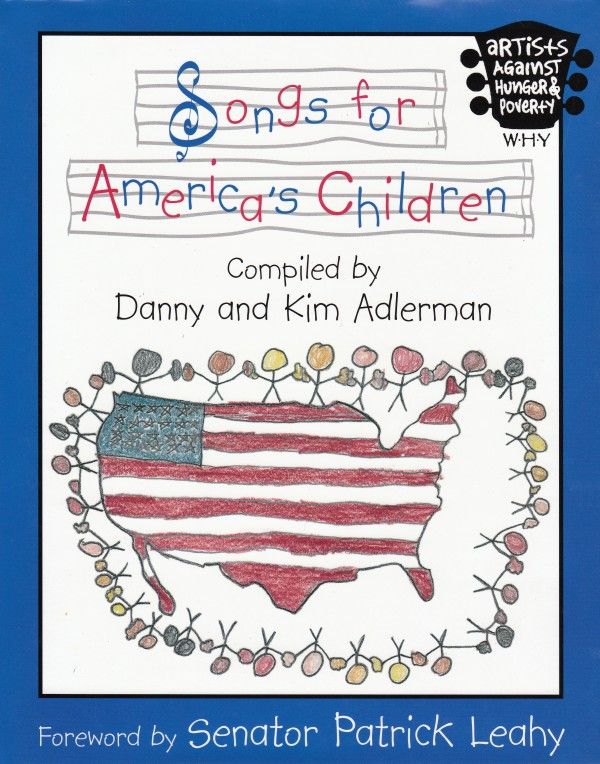 Songs for America's Children
Compiled by Danny and Kim Adlerman
Illustrated by children across the country
ISBN Paperback: 978-09705773-3-7
Interest Level: Grades 1-5
Reading Level: Grades 1-5
Available at: Lee and Low Books (paperback), Follett,  and Over the Moon Toys, or 
go to our store. (Free shipping domestically in the US by USPS media mail at our website)
Activity Guide (also includes activities for other books and music by Danny and Kim Adlerman): ADlerman-ACTIVITY_GUIDE-16.pdf
Themes
: Childhood Experiences and Memories, Cultural diversity, Empathy/Compassion, Friendship, Multiethnic interest, Similarities and Differences, United States History
The Story Behind The Story: After the September 11th attacks, we felt we needed to do something, as almost everyone did. What to do? We kept hearing, "No more food, it will sit in a warehouse and rot; no more blood, the lines are two blocks long and it only goes bad after a couple of weeks if not used; no more people or manpower, you'll only be turned away." It dawned on us: What we should be doing is what we do every day, but direct the efforts to the people who need the help.

Meanwhile, by September 13th, Danny had written a song, "Songs For America's Children" and when the idea for the book came to Kim and Danny, it was natural that not only would this song be one of the many sets of lyrics and poetry featured, but that it would lend it's name as the title of the book (Danny, by the way, thanks the great Stephen Stills, whose Poem for America's Children served as the inspiration for the name of the song). Once the concept was fleshed out, the pieces really fell into place - everyone was really happy to participate, the contacts, the schools, principals, teachers, parents, and students; the printers, the charity itself, World Hunger Year , and of course, our great friends.

The idea was simple: compile a collection of patriotic lyrics and poetry, and have them illustrated by children. Well, the execution of the idea is never as simple as the idea itself; nonetheless, after months of painstaking work, we are proud to present a 40 page picture book of lyrical, anthemic, and poetic words illustrated by children from across this great nation: in effect, a vision of today as presented by a vision of tomorrow. Song lyrics and/or poetry in this volume include: America the Beautiful; My Country, 'tis of Thee; The Star Spangled Banner; The Pledge of Allegiance; Grand Old Flag; The New Colossus, and more.

So with the idea and goal in mind, we set out to make a book that would be beneficial in three ways:

1) To help get aid to Ground Zero in New York. WHY does support groups in fact who do provide aid to that area - check out their site for more specifics.

2) To contribute to a lasting and long term difference ultimately affecting future generations. World Hunger Year, established in 1975 by co-founders Bill Ayres (who is still the executive director) and the late, great Harry Chapin , exists to help feed the impoverished across this nation and indeed the world, and to teach them to feed themselves, too.

3) To make an educational difference to our future generations. Through their program, Kids Can Make A Difference , WHY helps to educate children on ways to make a meaningful contribution to our planet and it's inhabitants who need help. For our part, we decided to compile, finance and publish the book ourselves, and donate all monies after out of pocket expenses - 100% of it - to WHY.
Feed the hungry. Buy this book.
To give a listen to "Songs For America's Children",
Click one of these links: Sound Clip or Entire Song
REVIEWS:
"...Songs for America's Children raises our spirits and engenders great pride in our country through the lyrics and poetry that have been sung and spoken for so many generations. It also brings us a spirit of hope from the young illustrators who have graced the pages with images of what this great nation means to them...."
—Senator Patrick Leahy (D-VT)


"WHY is proud to be associated with Songs for America's Children as a joyful representation of everything that WHY -- and indeed all of America -- stands for. By celebrating the legacy of ideals through our patriotic songs, and the diverse voices of our present through our children's vibrant art, this book lays out the basic blueprint for our future; one where we come together to make the American dream available to all".
—Jen Chapin, musician, educator, and Chair of WHY Board of Directors


"What a great idea this book was! Seeing these American songs in the context of the paintings by American children brings new life to them all. Good job!" 
—Tom Paxton (Singer, Songwriter, Author)


"Songs for Americas children by Dan & Kim Adlerman is a BIG BIG hit!! The shelters that received them and some teachers in the public schools received them and they are using it for 9/11 and units on diversity...thank you very much from my Aunt B".
—Wayne Steinberg, Brooke Jackman Foundation