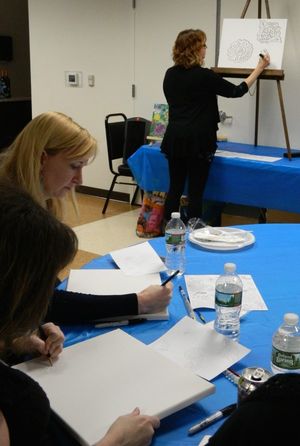 Kim has been teaching kid's and adult art classes for many years. In 2015, she added art & wine events/workshops to her repertoire! After all, she loves art and wine! Kim has run small private parties as well as  large fundraisers. She allows your creativity to flow, encouraging your inner artistic voices to shine through as she guides each artist to create their own unique piece while enjoying a relaxing evening out!
     Kim is open to ideas on types of media, image subject, and amount of guidance requested, etc. For example, in the this workshop, we started by just doodling! Kim illustrated how to get started and passed out examples of floral doodles. Some people started with pencil, while others jumped in with sharpies. Then Kim guided everyone to some basics of painting, mixing paints and color. The canvases were filled with flowers and garden critters of all shapes and sizes—you can see how varied and beautiful each piece is!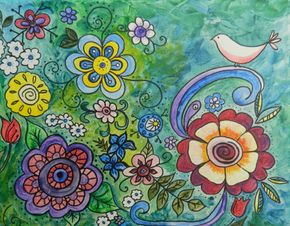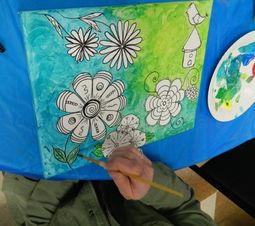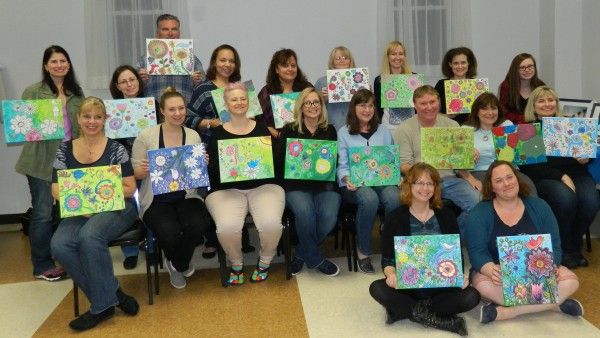 Below, artists started by painting and abstract painting with paintbrushes, adding texture with various tools including combs, toothbrushes and sponges! Kim then guided everyone to the basics of painting different types of fish. We filled the canvas with a menagerie of fishes of various sizes then continued to paint the background with a wash, leaving the colorful and unexpected texture of the original abstract to come through in the fish!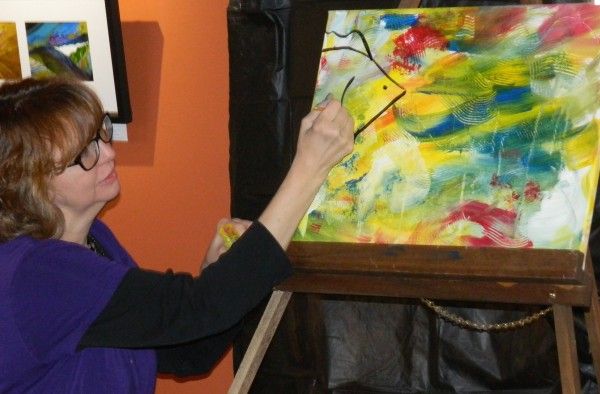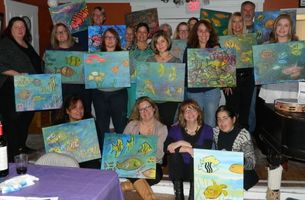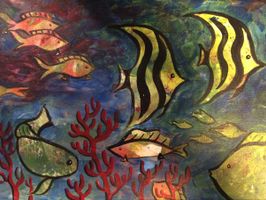 Below is another Kim did using acrylic paint, tissue paper, and cheese cloth! If you are interested hiring Kim for a workshop, email Kim at: kim@dannyandkim.com. If you'd like to be contacted when I run an event in central New Jersey, join our mailing list or friend Danny and Kim on Facebook at: Danny and Kim and friends