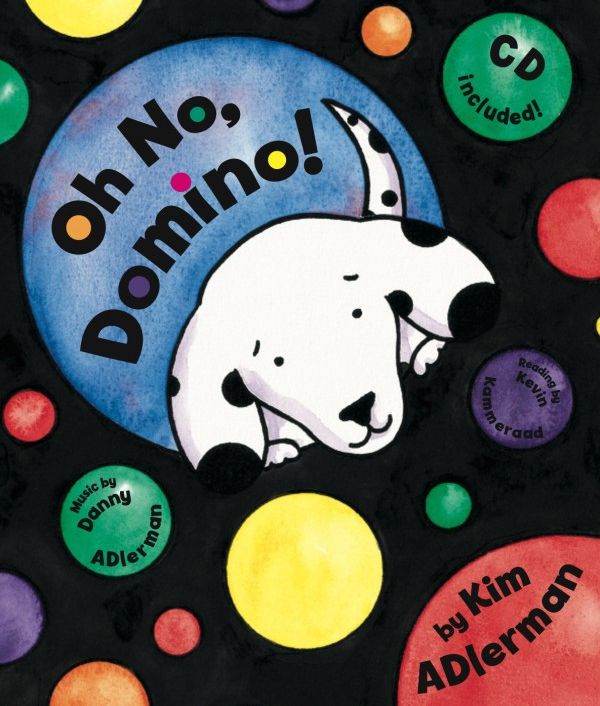 Oh No, Domino!
written and illustrated by Kim Adlerman

Includes CD with song by Danny Adlerman and reading by Kevin Kammeraad. 
To hear sample of the song, click here: Domino-short.mp3
8 3/8" x 9 5/8", 32 pages
The Kids at Our House (December 2007)
Hardcover ISBN: 978-09705773-7-5       Paperback ISBN: 978-09705773-8-2
Interest Level:  Grades PreK - 1            Reading Level:  Grades PreK - 1
Available at Follett, Lee an Low, and our store. (Free shipping domestically in the US by USPS media mail at our website).
Activity Guide for teachers (also includes activities for other books and music by Danny and Kim Adlerman): ADlerman-ACTIVITY_GUIDE-16.pdf. 
Worksheets for students, go to our Activities page!
Themes: Animals, Beginning Concepts, Childhood Experiences and Memories, Conflict resolution, Environment/Nature, Friendship, Games/Toys, Multiethnic interest
A young boy takes his dog, Domino, out for a game of fetch. Domino finds everything round, retrieving an apple, a flower, a bubble, a balloon, one of his spots, and eventually, even, the sun . . . but not the ball. At the end it is revealed that Ana the cat, who can be seen skulking around in every scene, has stolen the ball for her growing collection.
REVIEWS:
This delightful children's book focuses on round things. The unnamed narrator takes his/her (gender indecipherable in the illustration) dog, Domino, to play catch. . . . But it appears Domino has a problem with round shapes. Domino is sent to retrieve the ball that was tossed. But instead of the ball Domino brings back a round flower, an apple, a balloon, a bubble (hard as that is to believe), Domino's own spot (what a trick!), and the sun. But Domino didn't bring back the ball. So where is the ball? And where is Ana the cat? No age range is given, but most small children will enjoy the colorful pictures with many, many round shapes. They will also like the delightful CD in case mom or dad's voice gives out. But beware, mom and dad, you may be stalled on the pages with no text as the child will want to explore the rich tapestries of shapes on those pages.    —Book Ideas, John L. Hoh   

Lovely repetitive text that tempts you to search the illustration for hints of what the curious Dalmatian will do next. The book comes alive with bright illustrations of a landscape that seems to be transformed with each page into more and more circles . . . and dots . . . and anything round.    —kidsonthegrand.com
Oh No, Domino! is a delightful children's picture book with an accompanying audio CD featuring an audio performance of the story and a piece of whimsical music as a bonus. A little black-and-white spotted puppy named Domino looks round and round, trying to find thrown balls in a merry game of fetch, but so many other wonderful, colorful objects distract his attention! The simple outline-style drawings add a charming touch to this lighthearted story especially sure to appeal to young dog lovers.    —Midwest Book Review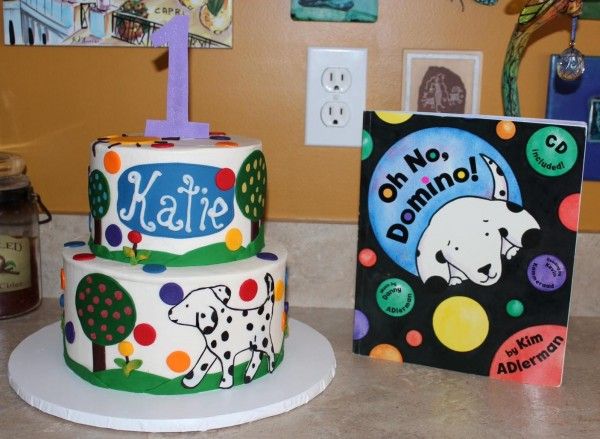 A gratifying email we recieved about Oh No, Domino!:
Hi Danny and Kim,

I discovered your book Oh No Domino while teaching preschool. I used the book for many years during pets and shapes week. The kids loved the colorful pictures and the companion CD.

I started reading the book to my daughter when she was a baby and by 10 months old, it soon became her her favorite. She just celebrated her first birthday on December 14th with a Domino themed cake.

I just wanted to thank you for a beautifully written book and to remind you that it only takes one book to lead a child to a life-long love of reading.....I think Katie found her book!
—Jennifer Klausler-Hendrickson and baby Katie