Making learning fun through Books, Music, Games, Nature, and Art!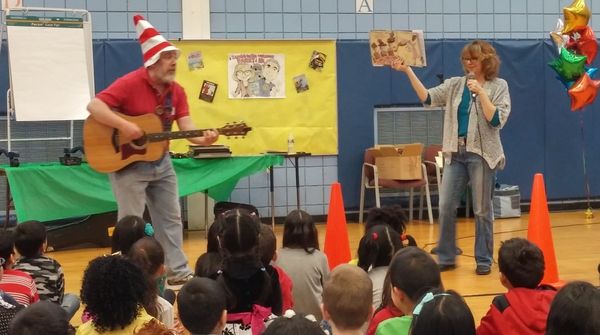 We do hi-energy, interactive presentations to classes ranging from pre-school to 8th grade! We tailor our appearances to our audience. We've been doing school appearances for over 20 years and have seen thousands and thousands of students so we're pretty darn good at adjusting our presentations to whoever we see.
For pre-school kids, it is largely sing-a-long and reading of our books, in which we also bring varying percussion instruments from around the world (mostly African). Kids play along while Danny plays guitar. Many of our songs have hand motions to follow along to the songs, too! The songfest includes standards the kids will know as well as originals, often but not always based on our books. We will definitely do Oh No, Domino! and Africa Calling for this age group.
For kids older than pre-school, we don't play quite as many tunes, and we start to introduce kids to all kinds of concepts: We bring in some of Kim's original artwork from Africa Calling and describe how it was made, including sketching, art directing (leading into the comparison of an art director and an editor), dummy, etc. The artwork is three-dimensional and made with an array of items besides just paint on paper, including natural objects such as rocks, sand, leaves, etc. There's a big "wow!" factor here when kids and teachers see the actual artwork! This leads into a discussion of process of making books, from beginning to end. We also bring transparencies from the book and progressive (color separated) proofs—combined we have over 50 years (yipes!) professional experience in the children's publishing industry, so this is second nature to us—we hold a very informal, non technical discussion of how books are made. Once again, we do tailor discussion to age of audience. For all ages, we will sing our book, Africa Calling. Generally, for 3rd grade and up we will do A Toucan Can or How Much Wood Could a Woodchuck chuck? (if younger kids are familiar with them, we would love to sing one of those in their sessions, as well). We otherwise try and mix up what we do so as not to get stale. If one or two of our books is a particular favorite of your classes, please just let us know before the session starts!

Kim will also usually sketch for the kids, we talk about being an author & illustrator of course, and host question & answer periods. The older the group is, the less music and more talking there is. 

To hear what educators have said, go here!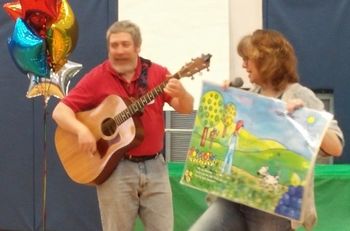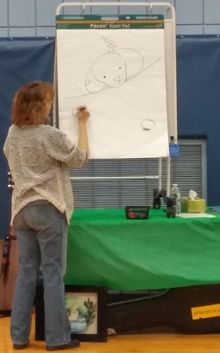 BOOK SIGNINGS
Kids/parents/teachers also have the chance to buy our hardcover books at a nice discount, and of course we will autograph them. We bring them with us so there is no need to preorder books weeks ahead of time. If you just let us know 4-5 days before the visit, that will be fine. We always bring extras day of, as well!

We have done groups from just a handful to several hundred at a time, so no size scares us, although of course we prefer smaller groups who seem to get the most out of it. 

Many of you have attended our professional workshops at conferences; if so, you know our goal is to be able to present a balance of useful information and ideas with a mix of our unique perspective as authors, game inventors, artist, and musician— all in the context of fun. In order to remain relevant, it must be an ever evolving process!

TIPS FOR A GREAT AUTHOR APPEARANCE
The more familiar the kids are with our work, the more enthusiastic they'll be about a visit! Included in our fee, we give you a complete set of our available works well ahead of time so the media specialist, teachers, and students can get to know our work before we get there. Let everyone involved know we're coming—the more, the better! If possible, it would be good if they've done a project involving one of our books. We've been to schools where the kids have written poems, drawn posters, sang one of our books to us, or made 3-D displays based on one of our books.
 We were once blown away when teachers had a 'round' luncheon for us in honor of Oh No, Domino! —the staff brought in all round foods!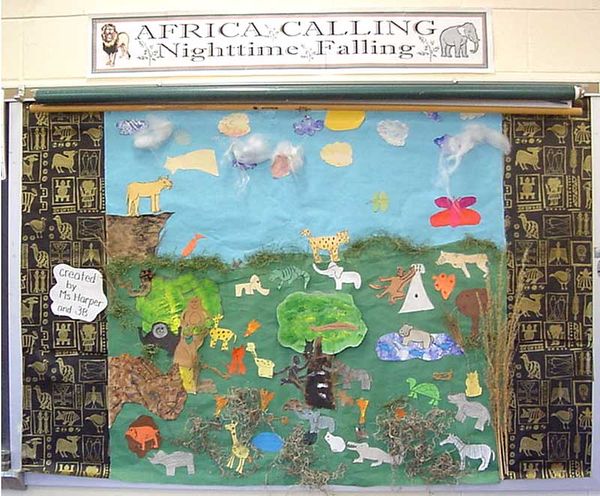 Mrs. Harper's 3rd & 4th graders, Glenwood Avenue School—Wildwood, NJ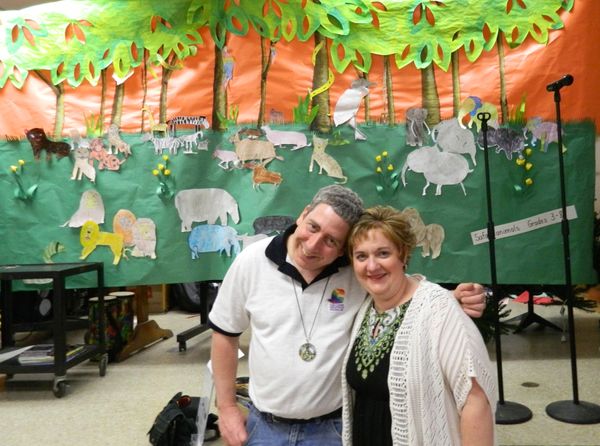 Display created by students in West Virginia. 
Speaking of lunch, we are occasionally asked to have lunch with select kids—sometimes they have questions for us, sometimes it's just informal and free-flowing. We are open to this or other ideas!
You're going to think this is a silly request, but please spell our names correctly. We once went into a school with a beautiful, huge poster that many kids clearly spent a lot of time on. It said, and we're not kidding, "Welcome, Ken and Bob Alderman!" While most people do get Kim and Danny correctly, most do not get Adlerman right. It's just darn awkward. 
That's about it. There's really not much to do other than get me in the room with the kids. We really enjoy making author visits. Please feel free to contact us if you have any questions that haven't been answered here. If you prefer to communicate by voice rather than email, we would love that! Just let us know and we'll send you our phone number.
RATES
Everything we do is individually quoted. Here's how we calculate the rate:
Which presentation or show are you interested in? How many presentations/shows would you like us to do? Where are you located? Are there other schools or libraries in the area that you know of that would also be interested so the travel fees can be shared? Or we could possibly do a PD session in the evening for teachers. We want to figure out how to make everything good for everyone. 

Please contact us so we can give you specific rates and options based on your needs and ideas. 

Simply Say Hello!
In general, if you're interested in our presentations and shows, but decide to wait to contact us in the future, we encourage you to simply contact us now to let us know you're interested. We want to be as flexible as we can to work with you! If we know you're interested in a visit, chances are that if we're scheduled to be in your area we can let you know when we might be able to come at a discounted rate. But, if we don't know you're interested, we can't contact you with these special opportunities or ideas. So, please feel free to just say hello for now! To that end, if you have ideas and/or suggestions you would like to see included, or comments which you believe would be constructive, please drop us a line now.

Thank you!