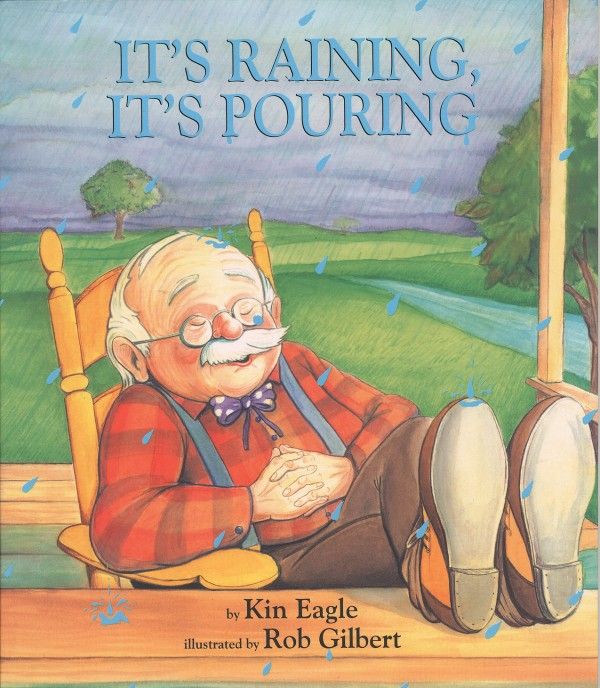 It's Raining, It's Pouring 
by Kin Eagle (Kim and Danny), illustrated by Rob Gilbert
To hear clip from accompanying song, go to CD Baby.

Reading level: Ages 4-8, 32 pages
Whispering Coyote/Charlesbridge (1994)
Hardcover: ISBN: 1-879085-88-7 (currently unavailable)
Board book: ISBN 1-58089-017-2 (currently unavailable)
Paperback: ISBN 1-879085-71-2
Available at: Follett, and Barnes & Noble and Over the Moon Toys. 
Or go to our store. (Free shipping domestically in the US by USPS media mail at our website)
Activity Guide (also includes activities for other books and music by Danny and Kim Adlerman): ADlerman-ACTIVITY_GUIDE-16.pdf
A favorite nursery rhyme is presented with a humorous flair for particular appeal to young readers and is accompanied by sunny (and rainy) watercolor drawing. The hardcover has an acetate jacket, as well as spot varnish on the inside pages for a shiny effect which kids love! Originally published in hardcover in 1994. OVER A QUARTER OF A MILLION SOLD WORLDWIDE!


South Central Kansas Library System - "Adding six new verses to the traditional rhyme, Eagle has created a rollicking good time. As the weather changes, the old man and his wife's antics become more humorous. When he sneezes, he blows away his pick-up truck, pops his buttons, runs from bees, falls down a well, and dances with ants in his pants. Each double-page spread is filled with lively full-color illustrations. Use this in storytimes and watch smiles break out over the group".


Melanie Mefford, The Ringling Eagle, Ringling, OK., January 17th, 2002 - "It's Raining, It's Pouring is a wonderful book for children between the ages of three and five. The colorful illustrations will keep the children's attention while they follow the old man's silly activities. Old Willy has a knack for finding trouble in daily situations. The rhythmic sound of the story will have children such as Misty Gass from Mrs. Roberts' third grade class singing about Old Willy bumping his head continuously and about Old Willy's snoring and sneezing as he is dancing around".


Hitting the Books with T.H. Gimotty, The Chattooga Press, Jan. 30th, 2002 - "Kin Eagle's journey through the nursery rhyme is a wonderful trip for any child's imagination. Rob Gilbert's illustrations reveal that when you use your imagination, you can see rhymes and stories you've heard before, in a different light. The rhyming patterns in It's Raining, It's Pouring help young readers with fluency. A great resource for parents and teachers alike".


Sheree van Vreede, Children's Literature - "Remember the old man who bumped his head when he went to bed? Well, he's back, and this time he is sneezy and growing and doing the Lindy with his wife Cindy. This is a hard-bound, durable book that can be taken anywhere. The illustrations are fun and lively".