NOW AVAILABLE!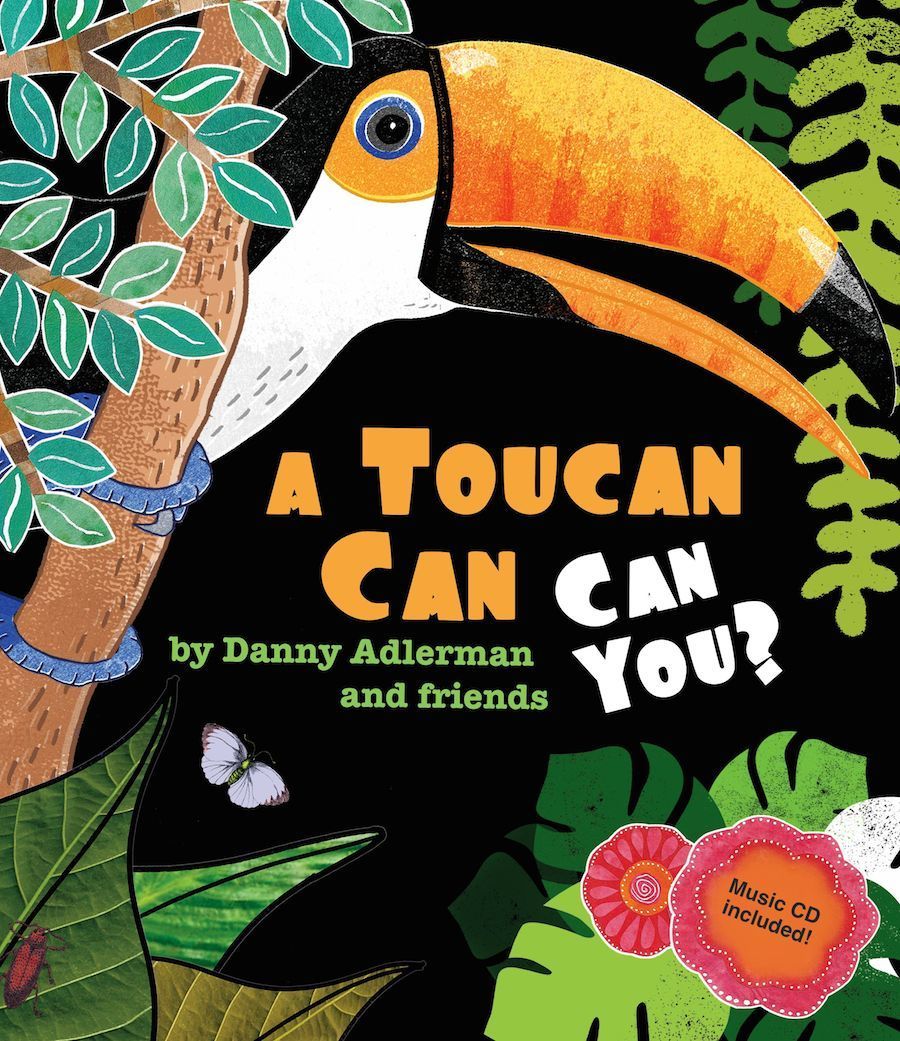 A Toucan Can
by Danny Adlerman
illustrated by Lindsay Barrett George, Ashley Wolff, Demi, Ralph Masiello, Wendy Anderson Halperin, Megan Halsey, Kevin Kammeraad, Pat Cummings, Dar (Hosta), Leeza Hernandez, Christee Curran-Bauer, Kim Adlerman, Symone Banks
Music by Jim Babjak

For a quick look at the talent behind A Toucan Can, check out the following files: Toucan_artists1.jpg and Toucan_artists2.jpg.
The Kids at Our House (Spring 2016)
8 3/8" X 9 5/8"
Hardcover ISBN: 0-978-1-942390-00-8
Interest Level: Grades 1 - 5         Reading Level: Grades 1 - 5
Available at Follett,  Lee an Low, and our store. (Free shipping domestically in the US by USPS media mail at our website).
REVIEWS:
"Under normal circumstances I don't review sequels. I just don't, really. Sequels, generally speaking, require at least a rudimentary knowledge of the preceding book. If I have to spend half a review catching a reader up on the book that came before the book that I'm actually reviewing, that's just a waste of everyone's time. Better to skip sequels entirely, and I include chapter book sequels, YA sequels, middle grade sequels, nonfiction sequels, graphic novel sequels, and easy book sequels in that generalization. I would even include picture book sequels, but here I pause for a moment. Because once in a while a picture book sequel will outshine the original. Such is the case with Danny Adlerman's audibly catchy and visually eclectic A Toucan Can, Can You? A storyteller's (and song-and-dance parent's) dream, the book is is a sequel to the book How Much Wood Could a Woodchuck Chuck but comes into its own as a writing assignment for some, a storytime to others, and a darn good book for everybody else.
Many of us are at least passingly familiar with that old poem, "How much wood could a woodchuck chuck if a woodchuck could chuck wood?" But why stop with the woodchuck? What other compound words can you break up in amusing ways? And so we are sucked into a delightful world of teaspoons spooning tea, spaceships shipping space, and ice cream screaming "ice!" Each one of these catchy little poems (which are set to music on the accompanying CD) is paired with art from an impressive illustrator. Part collaboration and part exercise in audible frivolity, Danny Adlerman's little book packs a great big punch.
For a group collaboration to work in a picture book there needs to be a reason for it to even exist. Which is to say, why have different people do different pieces of art for the same book? To best justify bringing these artists together you need a strong hook. And brother, I can't think of a stronger hook then a catchy little rhyme, turned into a song, and given some clever additional rhymes to go along with it. Let's hear it for the public domain! It's little wonder that the customary "Note to Parents and Teachers" found in books of this sort appears at the beginning of the book rather than the end. In it, mention is made of the fact that the accompanying CD has both music with the lyrics and music without the lyrics, allowing kids to make up their own rhymes. I can attest as someone who did storytimes for toddlers and preschoolers for years that music can often be a librarian's best friend. Particularly if it has a nice little book to show off as well. So for the storytimes for younger children, go with the words. And for the older kids? I think a writing assignment is waiting in the wings.
I was quite taken with the rhymes that already exist in this book, though. In fact, my favorite (language-wise) might have to be "How much bow could a bow tie tie if a bow tie could tae bo?" if only because "tae bo" makes shockingly few cameos in picture books these days. Finding the perfect collaboration between word and text can be difficult but occasionally the book hits gold. One example would be on the rhyme "How much ham could a hamster stir if a hamster could stir ham?" Artist Leeza Hernandez comes up with a rough riding hamster in cowboy gear astride an energetic hog. Two great tastes that taste great together.
Obviously the problem with any group collaboration is that some pieces are going to be stronger than others. But I have to admit that when I looked at that line-up I was a bit floored. In an impressive mix of established artists and new up-and-comers, Adlerman pairs his illustrators alongside rhymes that best show off their talents. Demi, for example, with her meticulous details and intricate style, is perfectly suited to honeycombs, honey, and the thin veins in the wing of a honeybee, holding a comb aloft. Meanwhile Wendy Anderson Halperin tackles the line "How much paint could a paintbrush brush" by rendering a variety of famous works, from Magritte to Diego Rivera in her two-page spread. Mind you, some artists are more sophisticated than others, and the switch between styles threatens to give one a bit of whiplash in the process. Generally speaking, however, it's lovely. And I must confess that it was only on my fourth or fifth reading that I realized that the lovely scene illustrated by newcomer Symone Banks at the end of the book is dotted with animals done by the other artists, hidden in the details.
I don't have to do storytimes anymore. In my current job my contact with kids is fairly minimal. But I have a two-year-old and a five-year-old at home and that means all my performance skills are on call whenever those two are around. I admit it. I need help. And books like A Toucan Can: Can You? can be lifesavers to parents like myself. If we had our way there would be a book-of-the-week club out there that personally delivered song-based picture books to our door. Heck, it should be a book-of-the-DAY club. I mean, let's be honest. Raise a glass then and toast to Danny Adlerman and his fabulous friends. Long may their snowshoes shoo, their jellyfish fish, and their rockhoppers hop hop hop."
—School Library Journal, Elizabeth Bird, July 15, 2016
"A Toucan Can Can You?" is a collection of tongue twisters made of compound words illustrated by multiple talented children's book artists and orchestrated into delightful music for added fun and enjoyment. Including a book and a CD, "A Toucan Can Can You?" follows such earlier Adlerman Books as "How Much Wood Could a Woodchuck Chuck?" and "Oh No, Domino!" A list of contributing illustrators include Lindsay Barrett George, Megan Halsey, Ashley Wolff, Demi, Ralph Masiello, Wendy Anderson Halperin, Kevin Kammeraad, Pat Cummings, Dar (Hosta), Leeza Hernandez, Christee Curran-Bauer, Kim Adlerman, and Symone Banks. Music was composed by Jim Babjak. The story begins with a Note to Parents and Teachers explaining the purpose of this delightful book and CD, which is to "make literacy fun through words, pictures, and music." "A Toucan Can Can You" certainly succeeds in its mission, appealing to children ages 6-10, using humor, color, exaggeration, rhyme, art, music, and jokes, even puns! Following the format of "How much wood would a woodchuck chuck if a woodchuck could chuck wood?" a variety of ridiculous questions are asked and answered, with vivid illustrations. Showcasing a wide variety of illustration styles (every riddle has a completely different illustrator with a different style), every riddle page pair gets wilder and funnier. For example, "How much bow could a bowtie tie if a bowtie could tae bo? As much bow as a bow tie could if a bow tie could tae bo!" is illustrated by a human faced blue bow tie who creates stacks and piles of rainbow ribbons into bows! The final title rhyme is best of all: "How much two can a toucan can if a toucan could can two? As much two as a toucan can if a toucan could can two! Can you?" This last is accompanied by the most fantastic of rainforest illustrations in a woodcut outlined style, wonderfully vibrant and bold. The final pages have brief thumbnail sketches and introductions to all the artists and the author and musicians. The final pages present a songsheet with musical notation for the song of "A Toucan Can Can You?" the title song. An addendum explains that throughout the book are scattered lots of pictures of compound words, with a list of most if not all the candidates to hunt for. Children and young readers are encouraged to learn more about types of compound words, and to check out the game "Compound It All!" by Kim and Danny Adlerman, winner of the 2015 Parents' Choice Recommended Award.
—Midwest Book Review
ACTIVITY GUIDE for teachers and librarians (also includes activities for other books and music by Danny and Kim Adlerman): ADlerman-ACTIVITY_GUIDE-16.pdf
Fun Toucan worksheets for students below. For more go to our Activities page!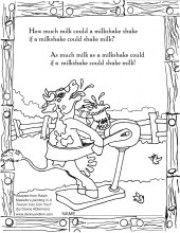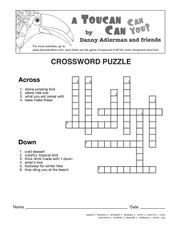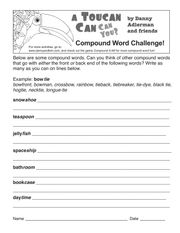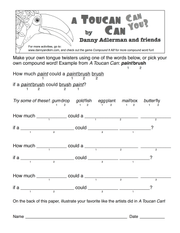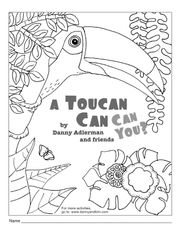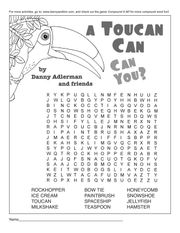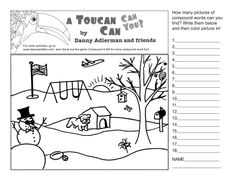 PDFs: 
Toucan-compound_word_challenge.pdf,  Toucan-crossword.pdf, Toucan-tongue_twister.pdf, Toucan_cover_coloring.pdf, Toucan_Milkshake_coloring.pdf, Toucan_picture_find.pdf, Toucan_wordsearch.pdf
JPEGs:
Toucan_tongue_twister_1.jpg, Toucan_picture_find_1.jpg, Toucan-crossword_1.jpg, Toucan_compound_word_challenge_1.jpg, Milkshake_coloring_page_1.jpg, Toucan_wordsearch_1.jpg, Toucan_cover_coloring_page_1.jpg
Themes: Animal/Biodiversity/Plant Adaptations, Animals, Beginning Concepts, Classroom Activities, Comparing/Classifying/Measuring, Cultural diversity, Environment/Nature, Nature/Science
Fans of How Much Wood Could a Woodchuck Chuck? rejoice! Here's an all new volume of tongue-twisting compound words, guaranteed to tickle your fancy! You'll laugh! You'll cry! Well…OK, maybe not, but you'll have lots of fun reading this book, poring through illustrations by thirteen different artists (including two fresh, new faces to the children's book scene!), and listening to an all new audio rendition of this new collection. So how much time will you spend reading, looking at, and listening to this book? As much time as you can! And if you're still dizzy from the first array of compound words and inverse descriptives…well, fasten your seat belts—the ride begins anew!