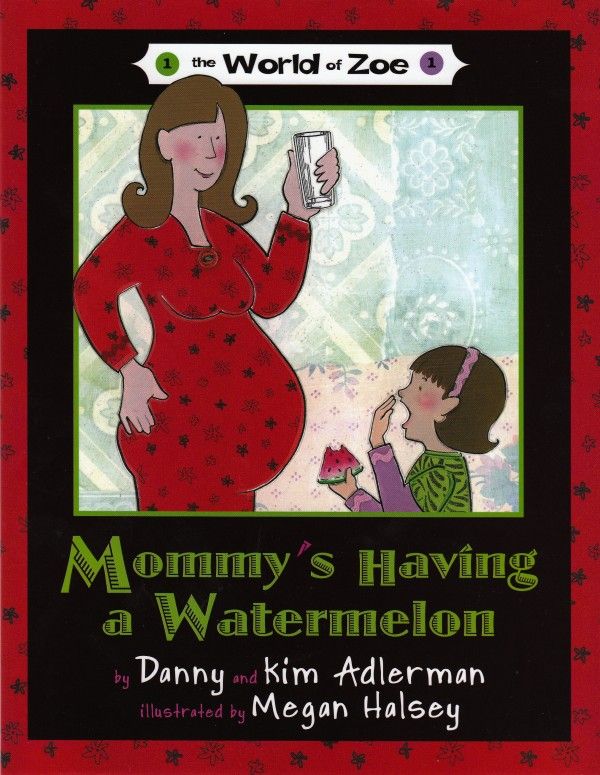 Mommy's Having a Watermelon
by Danny and Kim Adlerman
illustrated by Megan Halsey
The Kids at Our House, 2009
6 3/4" x 8 3/4",  44 pages 
Hardcover ISBN: 978-097057773-9-9
Paperback ISBN: 978-1-942390-02-2
Interest Level:  Grades 2 - 5         Reading Level:  Grades 2 - 5 
Available at Follett(hardcover), Lee and Low Books (paperback), and our store. (Free shipping domestically in the US by USPS media mail at our website).
Activity Guide for teachers (also includes activities for other books and music by Danny and Kim Adlerman): ADlerman-ACTIVITY_GUIDE-16.pdf. 
Worksheets for students, go to our Activities page!
Themes: Childhood Experiences and Memories, Conflict resolution, Families, Fantasy, Home, Imagination, Mothers, Multiethnic interest, Overcoming Obstacles, Siblings


Young Zoe Rind accidentally spits a watermelon seed into her mother's glass, and her mother then swallows it. Now, Zoe's mother says that a "seed" is growing inside her, and Zoe can't figure out why her family is so excited. A watermelon growing inside Mommy's belly? As her mother's stomach swells bigger and bigger, Zoe begins to wonder what will happen to the watermelon after it is born—remaining confused right through the trip to the hospital on the night of the delivery.
Zoe Rind has a problem. A big problem. You see, over the summer she was laughing pretty hard and a watermelon seed in her mouth got spit out by accident and landed in her mom's glass. Zoe thought that was hilarious, but didn't think much about it . . . until mommy started feeling sick. . . . There is clearly only one answer: there's a watermelon growing in there. Zoe is sick with guilt, but when she tries to talk to her parents about the problem they just end up talking about seeds and how 'we want to be surprised.' . . . The art is actually a good complement to the text here. . . . It's a good book for those kids transitioning from very easy books to early chapter affairs. As for artist Megan Halsey, she has put together a fun style that integrates printmaking, collage, and good old fashioned watercolors. Repeating images, like the question marks that appear faintly in the background at appropriate times, meld together with some of the more realistic images. The result is art that doesn't just sit morosely but that moves the eye around each page beautifully. It makes the book a pleasure to read. . . . All in all, the book is amusing both from a literary standpoint and an artistic one. I don't see many easy readers worth reviewing, but Mommy's Having a Watermelon proves to be the exception to the rule.   —School Library Journal blog, Elizabeth Bird
Gr 1-3–Zoe Rind worries that the watermelon seed that accidentally fell out of her
mouth and landed in her mother's lemonade glass is growing inside her mother. She
wants to confess to her parents but decides not to when they tell her that there is a special
seed growing inside Mommy, and they want her to be surprised. …Halsey complements
this amusing story with a clever mix of watercolor and collage art. All of the details
contribute to the presentation, from the illustrations on the endpapers, title page, table of
contents, and chapter headings, to the choice of dark pink and green as the predominant
colors in the artwork. Capping off this charming story is an informational section
with watermelon-growing tips and four recipes for adults to share with children.
—School Library Journal, October 2009, Marilyn Ackerman, Brooklyn Public Library, NY




In this laugh-out-loud story, children's book veterans Danny and Kim Adlerman bring to life that saying every expecting Mom dreads to hear, 'You look like you've got a watermelon in there!' . . . Halsey's art is a unique multi-media style that combines collage and watercolors. . . . This is a great book to use as an introduction for 'the big talk' and for those young readers who are curious as to where watermelons come from!   —Children's Book Examiner, Lori Calabrese