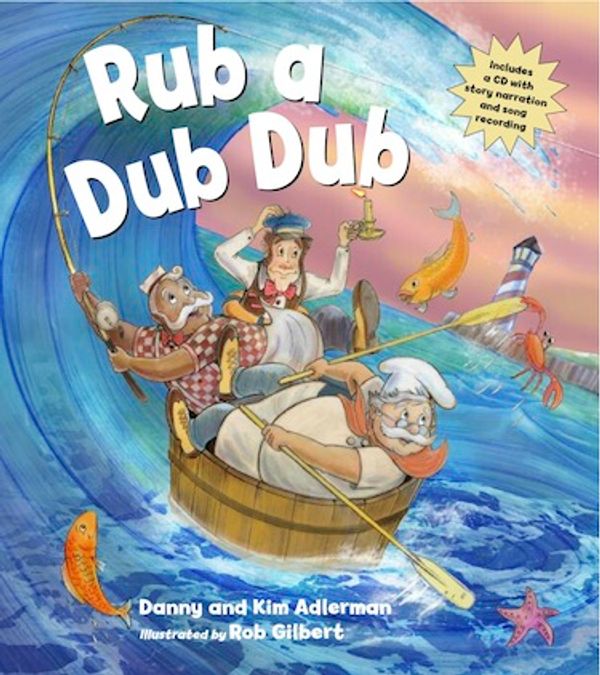 Rub A Dub Dub
by Danny and Kim Adlerman
illustrated by Rob Gilbert 
To hear clip from accompanying song, click here: RubADub.mp3
Reading level: Ages 4-8, 32 pages—CD included
Whispering Coyote/Charlesbridge (February 1999/reissued with CD 2012)
Hardcover  ISBN 978-1-58089-576-7
Paperback ISBN: 978-1-58089-575-0
Available at: Follett, and Barnes & Noble and Over the Moon Toys.
Or go to our store. (Free shipping domestically in the US by USPS media mail at our website)
Activity Guide (also includes activities for other books and music by Danny and Kim Adlerman): ADlerman-ACTIVITY_GUIDE-16.pdf
This expanded version of the traditional rhyme shows what happens to the butcher, the baker, and the candlestick maker when they go fishing in their tub.
REVIEW:
Rating: Five out of fiveThe butcher, the baker and candlestick maker are out on a journey to catch some supper for themselves and their wives. The three are all friends, but when they get into a little trouble on their boat ride, will they stick together to the end? What a funny rendition of the old rhyme of these three characters! Author Kin Eagle does a wonderful job telling this tale, and also illustrator Rob Gilbert does equally great depicting these guys. A sure fire hit for the young ones in your life! —www.bookreviewcafe.com/rubadubtub.html, Lisa