Rocketed from the dying planet Krypton as a baby...oops!
Wrong story!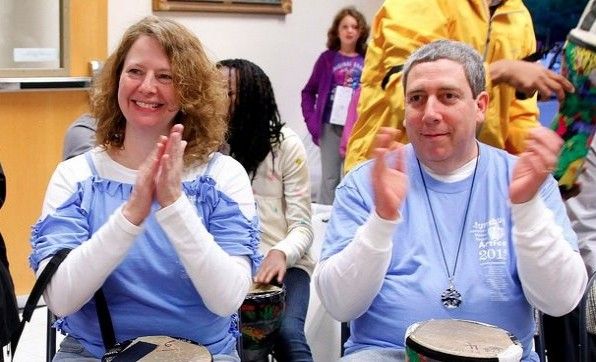 Kim and Danny first met somewhen around 1989 when they were both working for Macmillan Publishing, a children's publishing house in New York City; Kim was a children's book designer, and Danny was a production manager. People who used to hear that would sometimes think, "So, she illustrates the books, and he writes them". This couldn't be further from the truth, but a more accurate foreshadowing we have never seen...
Danny was born and raised in central New Jersey, in the hamlet of Roosevelt—a town so small in fact that the mail there is not even delivered to the residents homes, and hence must be collected at the central post office.
     After having graduated high school from The Peddie School, in nearby Hightstown, Danny left "the sticks" for the bustling cosmopolitan metropolis of Boston, having received his formal education at Boston University's School of Management (BU). Next stop: New York City!
Kim was born and raised in western New York: North Tonawanda, to be specific, and Wheatfield to be even more specific! Kim received her degree in Communications Design from the University of Buffalo (UB); during her tenure there she had the distinction of interning for Seymour Chwast/The Pushpin Group in New York City. Chwast, himself an icon in the field of design, proved to be influential in Kim's decision making path, and after receiving her diploma in Buffalo in 1987, she went...guess where? New York City!
     Ultimately, Danny and Kim wound up working at Macmillan Publishing, where they met. Kim worked for Atheneum, a children's imprint, as a graphic designer; Danny worked for the manufacturing group as a production manager of picture books. One of the many imprints he was assigned to was...you guessed it, Atheneum! Anyone starting to see a pattern develop?
     Through the years, various mutual friends and/or roommates, personnel changes at the company, and lots of good karma, the pair finally succumbed to what they eventually had to admit was destiny. They vowed never again to be more than five floors apart, and to this day they are in fact somewhat closer than that!
     Through even more years (gee, this is even better than the magic of television, isn't it?), in addition to many books and lots of music, Kim and Danny made the most wonderful and special thing they have ever made or will ever hope to make: A beautiful family. Rachelle was first, followed by her two brothers, Joshua and Maxx. They have had several furry critters over the years. Currently sharing their home with a cute mutt named Zoey and a shy, beautiful cat, Bixby.

So now you know.