Chosen a "Pick of the Decade 1995-2005"
by the New Jersey State Library!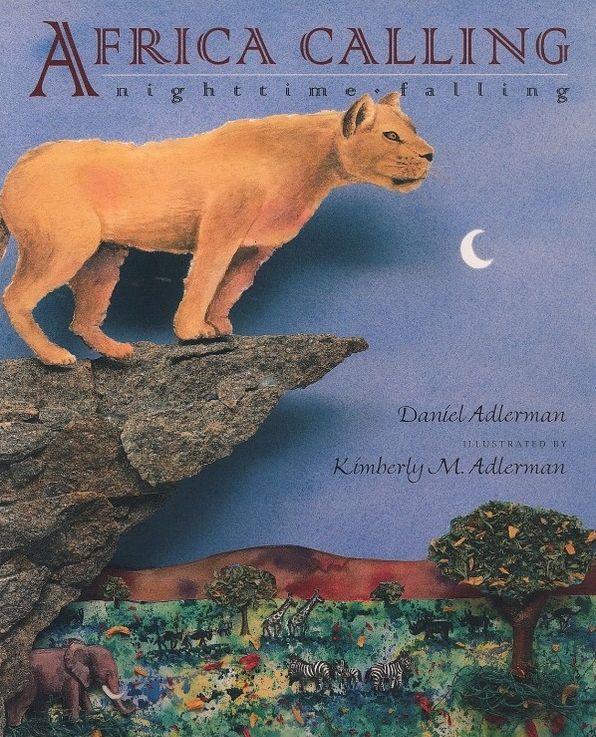 Africa Calling, Nighttime Falling
by Danny Adlerman
illustrated by Kim Adlerman
EXPANDED and REVISED VERSION now in paperback!
Lee and Low Books, 2018
This revised paperback edition includes descriptions of each of the animals in the book, a map of Africa detailing the animals' habitats, and sheet music to sing along with the text.
Paperback, ISBN: 9781620147955, available here at Lee & Low Books
To hear clip from accompanying song from CD One Size Fits All, go to CD Baby.
Reading level: Ages 4-8
8 3/4" X 10 3/4"-32 pages

Charlesbridge 
Hardcover:  ISBN: 978-1-879085-98-5, $16.95
Activity Guide (also includes activities for other books and music by Danny and Kim Adlerman): ADlerman-ACTIVITY_GUIDE-16.pdf
Fun Africa Calling worksheets for students below. For more go to our Activities page!
To buy original hardcover of Africa Calling, go to store. Free shipping domestically in the US by USPS media mail.
REVIEWS
 "A sense of realism combines with the delights of fantasy in this charming picture book... The use of collage communicates a world of fantasy on the edge of dreaming, at the same time that the concreteness of the materials used and dimensionality created by varying distances from the background make this world seem very real...the author and illustrator have created a mysterious, non-threatening animal world of a child's imagination."   —School Library Journal, August 16, 1996
 "In this well-crafted picture book, the stuffed animals surrounding a young girl sitting on her bed come alive as she ponders their lives and natural habitats in their native home of Africa. The two-part rhyming text sets the stage for her dreamlike trip, and a unique combination of watercolors and natural objects such as dried berries and leaves and pieces of rock and pebbles creates unusual collages that distinctively capture the essence of the animals and their environment. The integral detail of these highly original illustrations will generate much visual curiosity among young audiences as they listen to the pleasing story."    —Booklist, October 1, 1996, April Judge. Copyright © 1996, American Library Association. 
 "With 'AFRICA CALLING, NIGHTTIME FALLING' the husband-and-wife collaborators, Daniel and Kimberly Adlerman, take us into the African Savanna at sunset, when shadows are long and colors are crisp. As some animals settle in for the night, others are just coming to life. Using well constructed, easy to read aloud verse, Daniel Adlerman captures the shifting mood: "As moonlight cloaks the desert land, Vipers slink across the sand. swiftly sliding vipers gliding" Blending a wash of rich, watercolor tones with three dimensional collage and cut paper effects, Kimberly Adlerman brings her husband's words to life. Her paper lioness surveys the hunting grounds from a rock cliff. Her watercolor buffalo is embraced by a bed of real grasses and moss. 'AFRICA CALLING NIGHTTIME FALLING' is a gem --- an interesting snapshot of an exotic place."    —The Book Report, Inc. by Kelly Milner Halls (BookpgDino). Copyright © 1998
 "A little girl lying in bed imagines 'Africa Calling, Nighttime Falling' (P) in Daniel Adlerman's picture book. Wild animals and their habitats within the African setting are depicted with poetic text such as, "In the deep, still calm of the river pool, Hippo swims to keep so cool. Splashing, spraying hippos playing." Kimberly M. Adlerman's debut as an illustrator is extraordinary with collages created by painting a base of watercolor, then adding varied layers of painted figures and actual leaves, dried flowers, rocks, herbs, and twine. One class of 7-year-olds used this book as a model for illustrating their own stories with three-dimensional objects".   —The Reading Teacher, November 1997