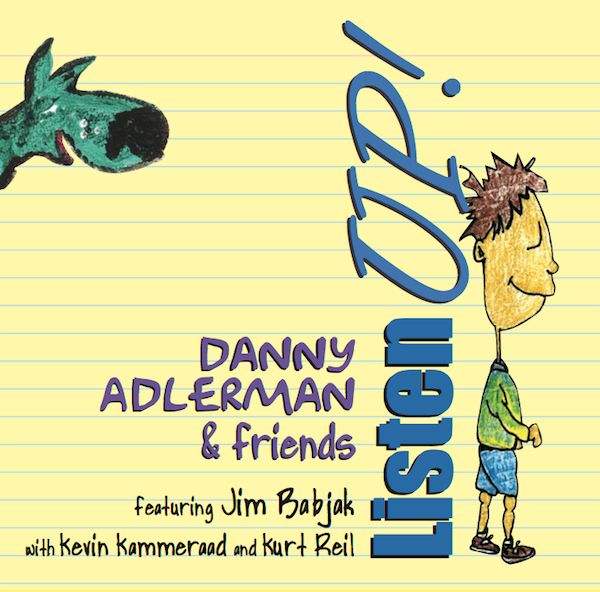 Listen Up!
by Danny Adlerman, featuring Jim Babjak
with Kevin Kammeraad and Kurt Reil
Produced by: Danny Adlerman, Jim Babjack, and Kurt Reil
Music and Lyrics by: Danny Adlerman, Jim Babjack, Kurt Reil, and Kevin Kammeraad
Illustrations by: Kevin Kammeraad
UPC: 777078914040
Publisher: The Kids at Our House
Publication Date: 2007
Primary Age Level: 7 – 12
Running Time: 37 Minutes
To hear sound bites, or purchase CD or downloads, go to CD baby.
Or buy at our store.
REVIEWS
Danny Adlerman assembled a group of talented musicians, including Jim Babjak of the Smithereens, for this eclectic collection of kid-friendly music. Most of the 12 tunes were either written by Adlerman or co-written with Babjak. The Buddy Holly-inspired "When I Grow Up" leads right into the contemporary pop rock "In the Future"; both songs focus on thinking about the singer's future. Standouts include "The Veggie Song" (a rock tune about how yummy veggies taste), "Sweet Pea Emily" (a Caribbean-flavored tribute to a girl, featuring tight harmonies and percussion), "Too Much Pizza Blues" (a blues song about the effects of eating too much pizza), and "Hundred's Day" (a country-flavored number celebrating the 100th day of school). The traditional call-response chant, "Flea Fly," is a crowd-pleaser as it speeds up each time it is repeated.
     Closing the recording, Alderman sings "Rock-a-bye Baby" (a lullaby that channels the sound of the Beatles) from his book of the same title (Charlesbridge, 2004). The album's humor and playfulness will appeal to the school-age crowd who are looking for music with just a little more sophistication than Raffi.     —School Library Journal, Stephanie Bange, Wilmington-Stroop Branch, Dayton Metro Library, OH
New Jersey-based Danny Adlerman is part of the kids' music equivalent of the Rat Pack (or the Brat Pack, or the Frat Pack, depending on your generation)—along with Kevin Kammeraad and Jim Dague of ScribbleMonster, they seem to be responsible for about 10% of the kids' music released every year, and they all seem to be on each other's albums.
     Adlerman's latest contribution to the genre is the recently-released Listen UP!, and while Dague isn't here, Kevin Kammeraad and a whole host of others join in. One benefit of having such a large extended musical family is a sense of familiarity blended with a diverse set of approaches. Although the songs are typically squarely in the rock tradition (the Who-inflected "Veggie Song," for example, or the big guitar-pop of "Crooked"), the musicians also tackle a few less straightforward songs such as the call-and-response game of "Flea Fly." In either case, the band sounds great together, especially on my favorite track, the goofy wordplay of "The Dozsins."
     I'd be remiss if I didn't also mention Jim Babjak from the Smithereens, who plays on the album and co-wrote 5 of the album's songs. A couple of the tracks— "In the Future" and "Somewhere I Wonder" sound like they could have fit into a Smithereens album without much rewriting. Lyrically, those songs don't have an obvious "kids' music" stamp too them. Other songs, feature topics like eating pizza ("Too Much Pizza Blues") and the hundredth day of school (the old-timey "Hundred's Day," natch). Overall, the album is nice blend of songs targeted right at the kids and songs less age-specific.
     I think the album is most appropriate for kids ages 5 through 9. You can hear samples from the 37-minute album at its CDBaby page http://cdbaby.com/cd/adlerman2. I hope Danny Adlerman keeps hanging out with his friends, because he's got a good thing going on musically. With a gentle sense of humor and playfulness, Listen UP! will be popular with many families looking for an album of kid-appropriate rock-n-roll. Recommended.     —Zooglobble.com


Want to sing along with your kids, want to enjoy some toe tapping music?  Listen Up! Is real music for real kids.  Opening with the sound of laughter, this CD features thirteen wonderful tunes.  Your child will soon be singing along, dancing around the room with glee. 
 "When I get up early in the morning, sometimes I don't want to get up 'til a quarter to lunch.  Sometimes we gotta do the things that we are told, even if we don't really wanna."  The lyrics are not just funny, they also carry a message that will reinforce the lessons you are trying to teach your child. 
"Day after day there are greens on my plate, you can't make me eat them, no way no how, when it comes to my veggies (I put on the brakes) I try just a small tiny bit, and WOW! Don't they really taste good!" 

All children can relate to, "Sometimes I Wonder."  "You've got to do better and do as you're told, is it meant to be like this until I grow old?"   "Hundred's Day," is charming and fun.  "First day of school and what do you know, only ninety-nine more days to go."

The final tune on this sing-along CD is Rock-a-bye Baby a companion to Adlerman's  book by the same name. Rock-a-bye Baby tells the story of a baby in its cradle as it floats down a stream.  Birds sing and a butterfly lands on its toes.  At the end of the journey, it is safe and sound, back in mothers loving arms. 

The lead guitarist is Jim Babjak of the world famous Smithereens, the long lived this band which also recently appeared on the Chicago based WGN morning program.  Danny and his friends are featured on the CD, playing banjo, bass, percussion, and keyboards.  Listen Up! is available from Adlerman's website dannyandkim.com, cdbaby.com, and Barnes & Noble.  You can't miss with this entertaining CD, I highly recommend it.   —Book Talk with Shirley LaBusier, The Ashley News -Ashley, Il.