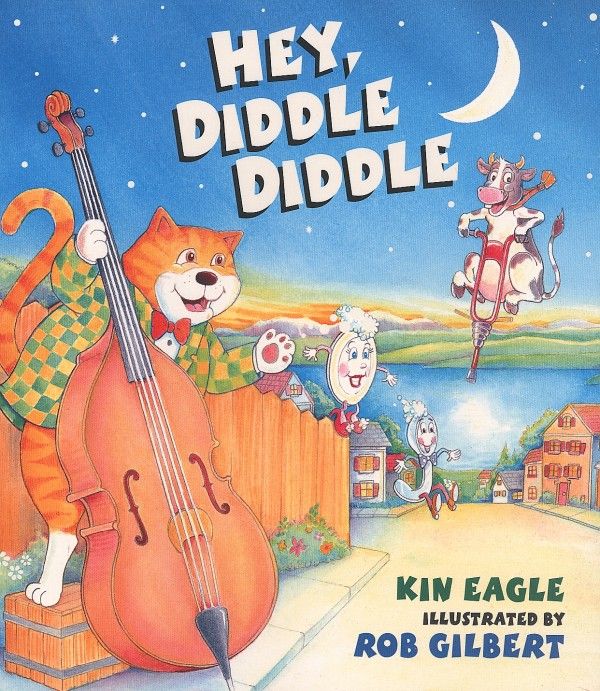 Hey, Diddle Diddle
by Kin Eagle (aka Danny and Kim)
illustrated by Rob Gilbert 
To hear clip from accompanying song, go to CD Baby.
Reading level: Ages 4-8, 32 pages
Whispering Coyote/Charlesbridge (1997)
Hardcover: ISBN: 1-879085-97-6
Paperback: 1-58089-007-5 (Currently unavailable)
Almost 100,000 copies in print worldwide!
Available at: Follett, and Barnes & Noble and Over the Moon Toys.
Or go to our store. (Free shipping domestically in the US by USPS media mail at our website)
Activity Guide (also includes activities for other books and music by Danny and Kim Adlerman): ADlerman-ACTIVITY_GUIDE-16.pdf
Young children join the cow jumping over the moon and her friends--Baboon, the dish and the spoon, the cat and the fiddle, and others--on a riotous adventure, in a hilarious, brightly illustrated version of the popular nursery rhyme." The hardcover has an acetate jacket, and spot varnish on the inside pages for a shiny effect! Look for accompanying song on CD One Size Fits All.
REVIEWS:

 This title was evaluated as a '5' on a scale of 1-5 (Outstanding/Excellent) in every single category reviewed, including the following: Objectivity, Accuracy, Appropriateness, Scope, User Interest, Organization, Picture/Sound/Narrative Quality, Physical Features, and Overall Estimate. —Librarians' Book Review, 3/97

 "Hey, Diddle Diddle takes off where the traditional nursery rhyme ends...The rhyme scheme will keep children listening as will the hilarious adventures of all the characters, from the dish and the spoon to the addition of a baboon."  —Children's Book Review Service, Inc.
Cool Story about Hey, Diddle Diddle
"I thought you both would enjoy this true story about a book I bought in the Barnes and Noble, Freehold. 

Back in the Spring or Summer of 2000, I brought my then 5 year old daughter to the bookstore to buy her some books.  I told her she could pick out three.  At the time I was pregnant with my son, who was to be named after my husband, Tim.  When I was putting her to bed I held the books in my hands.  I can't remember which was read first, but when I opened, Hey Diddle, Diddle, there was an inscription inside the cover. 

It said, For Timmy... Diddle a little... but READ A LOT!  Then the signature of Kin Eagle.

When I show the book to others they never believe me!"