Parents' Choice Recommended Award Winner!
Winner-TOP TEN GAMES of 2015 by DR. TOY!
PAL award winner!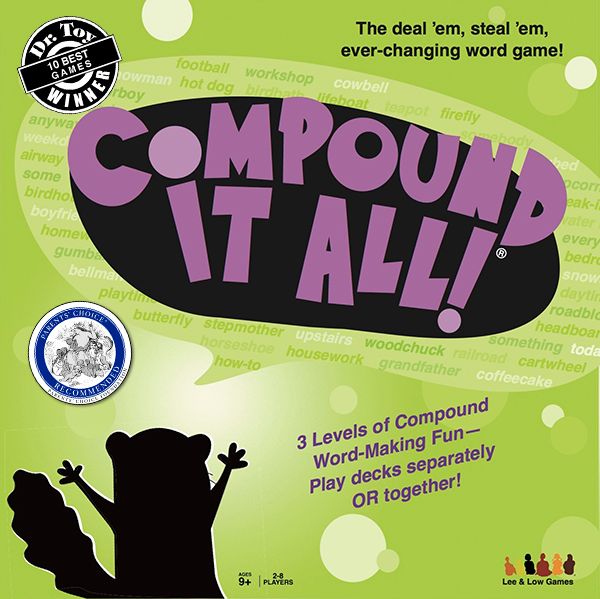 By Kim and Danny Adlerman
Lee and Low Games, 2015
Ages 9-99
Simple to learn, difficult to master!

Compound It All! is a compound word building card game that will expand your vocabulary, critical thinking skills, and even your math skills. This unique word-building card game is fun to play in the classroom, at home with friends and family, or for game nights!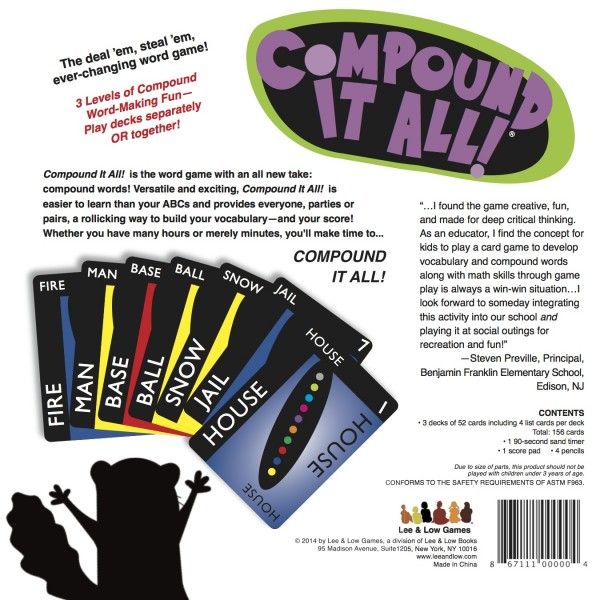 Compound It All:

• Quickly and easily builds vocabulary
• Demonstrates in an accessible way how compound words work
• Offers multiple difficulty levels, making it great for differentiated instruction
• Can be played by both children and adults, and is equally enjoyable for all
• Expands to nine decks of varied difficulty levels, which can be used individually or in any combination.
• Teaches not only the concept of compound words but also positive and negative integers
• Makes learning FUN!

Basic game play: 

Each player is dealt 5-7 cards depending on number of players and tries to build compound words, using words in their hand, draw & discard piles, and "stealing" words from opponents by making new compound words. Round ends when first person runs out of cards, but winner is determined by which player has the most points. Check out the complete instructions for more details.
Read more here to learn about the classroom and educational applications and corresponding Common Core State Standards.
REVIEWS:
"Here's a word-building game that may prove confounding, but is unquestionably compounding!
At its core is the grammatical concept of compound words. Each player gets a hand (five to seven cards depending on how many players) from the three decks of 52 cards each. Each card has a score number; each deck has a different difficulty level. In turn, players try to create a compound word using the cards from their hands, or by drawing new cards, or by taking cards from the discard pile. A nice and competitive dimension for word play is that players can even steal words from opponents to form a compound word.
So, let's say you have in your hand the eight-point Fruit card and the six-point Cake card, which, of course, adds up to Fruitcake…and 14 points. Or the two-point Under card and the two-point Water card, which equals a four-point Underwater. How about Jail and House? Snowball? Fireman? You get the idea.
They're not all that easy. Game rules offer some complications as well, and an hourglass sand timer allows players to add more pressure.
Each round ends when one of the players runs out of cards. That's when everyone adds up their points to determine the winner. Or games can extend to first to reach 200 points, or any arbitrary goal. Scoring can get dicey but after a few rounds it all makes sense.
This game is a cool way to strengthen vocabulary and critical thinking skills, not to mention to enjoy the word-play fun of coming up with some occasionally unexpected compound words."      —Don Oldenburg   ©2015 Parents' Choice
There's something inherently fun about compound words–maybe it's that feeling of accomplishment as we successfully combine two different words to represent a new word and meaning. Compound It All! gives us that chance to search for words to combine using those in our hand or in the discard or draw piles. With 3 levels of play using color coded word stacks, we raced to see who could make the most pairs of highest value and get rid of our hand of cards first. We found some words easier to pair up than others like "any" became anytime, anyday, while "time" became bedtime, schooltime, and daytime. Oops, maybe schooltime isn't a compound word and we got carried away. We looked it up and it's a yes! Our players particularly liked the "Steal" option, where you can place your card over half of another player's compound word and steal those cards. Don't be caught holding high value cards when a player yells "Compound It All" as he goes out because the sum of these will be counted against you. Players tally up their cards for the round and enter it on the score card to reach 200 points to win. Strategic moves include quickly discarding or using high value cards, or holding pairs hidden in your hand for a while so no one can steal them. We had such fun playing and exercising language skills. Playing with compound words helps kids to be aware of root words to later expand upon with prefixes and suffixes, learn new vocabulary as a compound word might not be related to the meaning of its component words, think critically and sequence as they try out compound combinations . "Let's play again," showed the fun factor in this creative game. "I must say that I found the game creative, fun and made for deep critical thinking.  —Sherry Artemenko,
PAL Awards
As an educator, I find the concept for kids to play a card game to develop vocabulary and compound words along with math skills through game play is always a win–win situation. I would not hesitate to allow this game into our classrooms as a learning tool. It would encourage the skills of collaboration,communication and 21st century learning. 
 The  game allows teachers to differentiate instruction and will meet a variety of learning styles which will allow the teacher to meet the students individual needs resulting in growth and achievement. The game is also another way for adults to interact and will expand their knowledge and thinking skills as it can pertain to crossword puzzles and word searches.
I would also promote this type of card playing during recess as it is recreational but connects to curriculum and will expand vocabulary use. I look forward to integrating this activity into our school and playing it at social outings for recreation and fun."     —Steven Preville, Principal Benjamin Franklin Elementary School, Edison, NJ
"Compound It All is a a must have in every classroom in America, not to mention that is is also a fabulous family game.    My 5th grade students absolutely LOVED it.  They found it challenging, fun, and easy to follow the directions.  I also enjoyed  listening to them collaborating as they played in teams, as well as their discussions when they played one on one.  They utilized their on-line dictionary to confirm compounds which in turn generated discussions about new words they were learning.  COMPOUND IT ALL is thought-provoking and motivating, and a great hands-on method to build vocabulary.  As an added bonus, the kids were thrilled with the laminated cards, big and bold words,  the easy to follow directions, and the variations on the game. I can't wait to get the full set!!!!"     —Kym Kristy, 5th grade educator, Washington Charter School, Distinguished School, Palm Desert, CA
"As an English teacher, it's tough convince students that words are a medium for creation, the same as paint or clay.  That they can be manipulated and changed.  "Compound It All!" shows kids, that like paint or clay, you can mess around with words, play with them and actually have fun doing it! I'd play this game with my 7 year old daughter and my 17 year old students… and my 70 year old father!     —Scott Gallagher, English teacher, Metuchen High School, Metuchen, NJ
"As a connoisseur of word games, I was excited to play Compound It All! at school this week. This versatile, customizable game includes everything I like best in word games: it combines luck with strategy, competition with collaboration, and even vocabulary with math! The rules were easy to learn and just as easy to vary depending on players' interests and skills.  I especially liked the way the game provides multiple access points—the combination of words, numbers, and dual levels of color coding will appeal to players across a variety of learning styles.
Compound It All! will be a welcome addition to the toolbox of any educator looking to balance serious vocabulary instruction with fun and engaging activities."     —
Jill Ratzan, I.L. Peretz Community Jewish School librarian
"This game is GREAT! We love it! The more we play it the better the students get. I have one student who really doesn't like these types of games, but has really developed the knack for it. We are going to be very sad now that I have sent this back—they were all bummed when I told them we were only borrowing the game! We played whole group—2nd, 7th, and 8th grade—they had a great time "stealing" and attempting to "ground hog." This is great cross curricular game using language arts and math concepts, additionally, a wonderful introduction to positive and negative integers. The students ask to play to play this game daily, and of course who am I to tell them no!
I can't wait to get the official Compound It All! game to play as often as we want—of course I will NEED all of the sets."     —Wendy Spray, Bois Blanc School, MI
"Compound It All is a fun game that encourages interdisciplinary thinking for all ages! It can be used as a differentiated form of vocabulary instruction or used as a classroom center. Add on the calculating of points and you've got your math too! Not only does Compound it All offer a choice of ability levels, but variations of games within each level. You get several games in one! What a great game, even for adults, to increase your brain elasticity!"     —Kimberly DeNaples, H. Russell Swift Elementary School Librarian, Egg Harbor Township, NJ
From The Courier News: New Game to Enthuse Word Lovers
From the Edison Metuchen Sentinel: "Couple Hopes New Card Game Generates 'Compound' Interest"